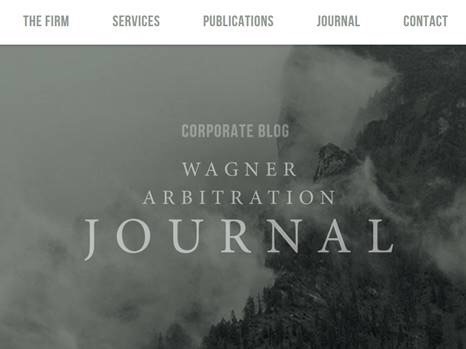 News
Introducing the WagArb Journal
7. April 2017
As of this week, our Wagner Arbitration Journal is live and kicking. You could say that it is a corporate blog but it is more like a diary.
The idea is of keeping you informed about who we are, what we do and what we stand for in words and pictures.
We do also invite guest contributions on topics that we deal with or otherwise appear important to us in our daily practice.
The publications will mostly be in English and occasionally in German. We will continue to provide updates on LinkedIn and Instagram and look forward to keeping in touch.
---
---
Über Wagner Arbitration
Die Kanzlei WAGNER Arbitration hat ihren Sitz in Berlin und ist auf gerichtliche und außergerichtliche Streitbeilegung mit Schwerpunkt Schiedsgerichtsbarkeit spezialisiert. Eine weitere Kernkompetenz ist die Beratung im nationalen und internationalen Wirtschaftsrecht.
Seit der Gründung im Jahr 2013 steht WAGNER Arbitration als kompakte Einheit für ein Höchstmaß an Vertraulichkeit und persönlichem, lösungsorientiertem Engagement. Dank unserer Mehrsprachigkeit und unseres weltweiten und interdisziplinären Netzwerks können wir komplexe Wirtschaftsstreitigkeiten und Transaktionen umfassend auf Deutsch, Englisch und Französisch betreuen.