Litigation
Litigation describes the procedure of resolving disputes and other legal matters through national or international court systems. Litigation will always be available as a mechanism for conflict resolution irrespective of any other party agreement but may be subject to certain subject matter and geographical restrictions and requirements.
Our Experience
Our firm provides litigation services to clients involved in commercial disputes in Germany in all stages of the litigation process, from pre-litigation negotiations through the trial stage to the appeal, including interim procedures. Given our focus on commercial and corporate law and our track record in drafting commercial contracts and assisting in business transactions, we are highly experienced in commercial and corporate disputes involving matters of international sales, distribution, Post M&A, PE & VC, real estate and unfair competition.
Our Offer
Our litigation services include:
Pre-litigation legal advice, such as preparation of legal opinions
Coordination with third party funders (if required)
Representation in court proceedings up to the appeal
Enforcement of German court judgements in other jurisdictions and of foreign judgements in Germany
Support in front of non-German courts, drawing on our established international network of colleagues in other jurisdictions. Out of court dispute resolution services
Expert advice on specific features of international civil procedure, including international service of process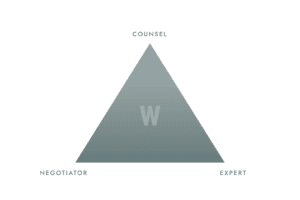 Our experts for all litigation matters stand ready to assist you.
Next to his legal and economic expertise, Joseph Schwartz has a strong passion and understanding for technology, which includes IT, technical and construction/engineering matters, which he regularly uses as arbitrator, party counsel and advisor.
With over 15 years of practice, Philipp K. Wagner brings a wealth of experience and a personal touch to the world of dispute resolution, with his work as an arbitration practitioner spanning multiple arbitral institutions across various industries and legal fields, with a particular focus on commercial and corporate law.
Julian is a dedicated German attorney specializing in complex commercial and corporate arbitration, fluent in English, Portuguese, and German, leading the Brazilian Desk for cross-border disputes and market entries.
Sophie is a German attorney, specializing in both commercial and investment arbitration. Sophie has a particular interest in public international and European law, transatlantic issues and German-Italian relations.
Here are some of our most relevant engagements
Domestic construction dispute
Representation of a large German asset management company on an appeal in a real estate related dispute in Berlin
Representation of a commercial real estate company against unfounded claims by the real estate agent
International corporate disputes
Representation of a real estate investor and developer in various shareholder and partnership disputes, including actions for the annulment of shareholder resolutions, removal of directors, exclusion of shareholders, and preliminary relief
International liability dispute
Representation of a European state-owned railway company against a German engineer based on joint and several liability
Domestic dispute over customer service fees in the banking industry
Representation of a German bank in a commercial dispute with its customer service provider
International COVID-19-related dispute in the event industry
Representation of a Swiss client against event service providers in the context of cancelled conferences due to COVID-19