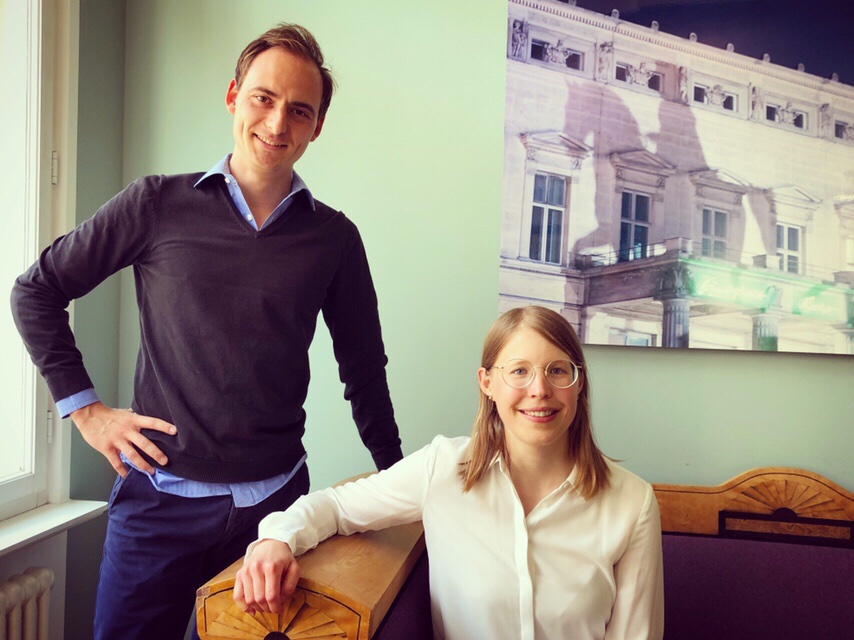 News
Welcome Saskia and Albrecht!
4. Juli 2019
Welcoming two new crew members: Saskia Merle and Albrecht Steinbach have joined us as trainee advocates from this week on and will be with us until next March.
Saskia studied law at the University of Freiburg. She also spent a year abroad at the Université de Genève, where she obtained a certificate in transnational law. A few weeks ago, Saskia defended a comparative law dissertation on German and French insolvency law at the University of Regensburg, a project that also included a research placement at the Université Panthéon-Assas (Paris II) in 2017.
Prior to joining WagArb, Saskia was an intern and a research assistant at two international law firms in Frankfurt am Main, and worked as academic research assistant for Prof. Dr. Heese at the University of Regensburg. Among other extracurricular engagements, Saskia is engaged with Amnesty International since 2009, providing pro bono legal advice to refugees since 2015. She also spends lots of her spare taking part in sailing regattas in the europeclass and trains younger sailors.
Albrecht Steinbach obtained his law degree at the Free University of Berlin with a specialization in corporate law. After his graduation, he worked as research assistant for the corporate practice group of an international law firm in Düsseldorf before moving back to Berlin to commence his legal traineeship. Albrecht is a former Vis mootie, having participated in the 2013/14 competition on behalf of the Free University of Berlin team.
He is fluent in English and currently regaining his lost skills in French. Albrecht plays the piano since the age of 6 and successfully participated in a Trinity College exam. His current project is Beethoven's "Pathétique". If not playing the piano, Albrecht is also drawn to water sports and started sailing two years ago.
We warmly welcome both Saskia and Albrecht on board and look forward to the months ahead!
---
---
Über Wagner Arbitration
Die Kanzlei WAGNER Arbitration hat ihren Sitz in Berlin und ist auf gerichtliche und außergerichtliche Streitbeilegung mit Schwerpunkt Schiedsgerichtsbarkeit spezialisiert. Eine weitere Kernkompetenz ist die Beratung im nationalen und internationalen Wirtschaftsrecht.
Seit der Gründung im Jahr 2013 steht WAGNER Arbitration als kompakte Einheit für ein Höchstmaß an Vertraulichkeit und persönlichem, lösungsorientiertem Engagement. Dank unserer Mehrsprachigkeit und unseres weltweiten und interdisziplinären Netzwerks können wir komplexe Wirtschaftsstreitigkeiten und Transaktionen umfassend auf Deutsch, Englisch und Französisch betreuen.